Goto Pediatric & Growth Clinic

Introduction
If you are an English speaker and looking for a pediatric clinic in Tokyo, or if your child has Short Stature, please contact our clinic. A Japanese pediatrician will examine your child and explain our findings to you in English.
Alert: If you come from some tropical regions and suffer from symptoms such as fever, diarrhea, vomiting, or fatigue, you should go directly to hospitals with doctors specializing in tropical medicines.
http://jstah.umin.jp/03posttravel/index.htm
*Japanese health insurance is accepted.
Fees can be paid in Japanese cash (Yen) only.
Images
Services
General Pediatric Practice
Growth Clinic for Children with Short Stature
Pediatric Endocrinological Clinic
Vaccination (Regular / Optional)
Infant health checkups
Examinations
Blood Work
Urine Test
X-ray
Service Hours


Vaccination and infant health checkups are prioritized between 15:00 and 15:30 (appointments required).
*Service Hours on Saturday
We will offer a Saturday afternoon service specialized in examining children with short stature from 14:00 - 17:00 since April, 2018 (appointments required).
Clinic Visits
You can walk in and talk to the reception desk.
Address
Goto Pediatric & Growth Clinic
Yours Bld. 1F, 1-22-3 Gotokuji, Setagaya-ku, Tokyo
Directions
Goto Pediatric & Growth Clinic is located within 1 minute walk from Gotokuji station on Odakyu Line in Tokyo. When you get off the station, turn left and walk straight until you find Top Parque Supermarket on the right. Our clinic is on the opposite side of the street.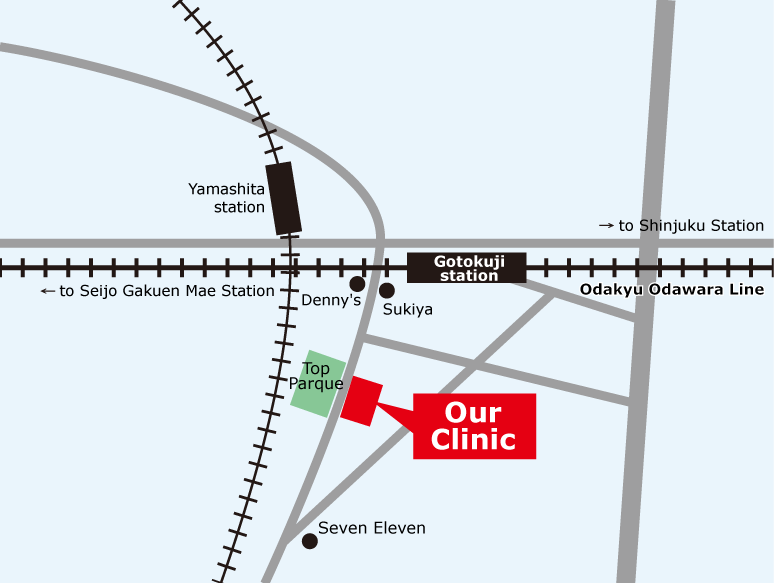 Doctor's Profile
Masahiro Goto, M.D., Ph. D.
Career
1992 Graduated from medical faculty of University of Tokyo
1992-1993 Intern, Department of Pediatrics, University of Tokyo
1995-1998 Resident, Division of Endocrinology and Metabolism, National Children's Hospital
1998-2001 Assistant, Department of Pediatrics, University of Tokyo
2001-2004 Research Fellow, Division of Human Development, University of Southampton, UK
2005-2010 Staff, Department of Pediatrics, Tokyo Metropolitan Hachioji Children's Hospital
2010-2017 Director, Division of Endocrinology and Metabolism, Tokyo Metropolitan Children's Medical Center
2017- Director, Goto Pediatric & Growth Clinic
Certification
Certified Pediatrician of the Japan Pediatric Society
Certified Doctor of the Japan Endocrine Society